Hillsdale College Chargers Cheerleaders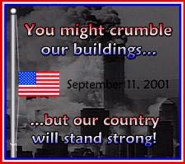 9/11/01
In loving memory of our nation's friends, families, and heroes--you will forever be remembered.
"One nation, under God, INDIVISIBLE."
"These will wage war against the Lamb, and the Lamb will overcome them, because He is Lord of lords."
To those who lost their lives as they went to work on 9/11/01, you are not forgotten. May you see the Lord's face and be gathered in His arms. To those police officers, volunteers, firemen, and passengers on United Airlines flight 93, you are truly heros--"No greater love is there than this--to lay down one's life for a friend." God bless you all--you are forever loved and remembered. To those left behind, our prayers are with you--may God comfort you and give you peace. Your country mourns with you...
"Grief and tragedy and hatred are only for a short time. Goodness, rememberance, and love have no end." ~George W. Bush

Support freedom

2001-2002 Chargers Cheer Team
Our Schedule
Favorite Links
Contact Us
Chargers Cheer Awards
Chargers Cheer Album
Cheer Forum
Chargers Chat
This week in Hillsdale...
About our Team

Welcome to the unofficial homepage of the Hillsdale College Charger Cheerleaders!! Here, you will find information regarding cheerleading at Hillsdale College, our 2001-2002 schedule, as well as pictures and information about the current Chargers cheerleaders. Click on any of the links above for information regarding the Chargers cheer team!

Congratulations to our new cheer team members! The following students join Yvonne Boatman, Allison Garnett, Kim Korb, Nicole LaForte, Emily Mahrle, Allison Rich, Sara Sanchez, and Elizabeth Seutter for the 2001-2002 Charger basketball season: Sarah Dunlop, Nicole Greco, Josh Jenkins, Caitlin McIntyre, Nate Somerville, Michelle Steffen, and Renee West!! Great job during tryouts!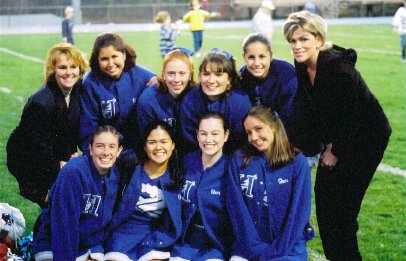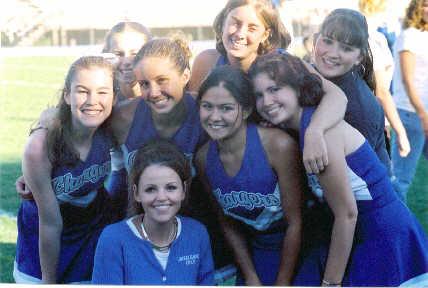 Thank you for visiting our page and please sign our guestbook before you leave!

"Hillsdale Rules"
Like what you saw here? Please tell a friend and help pass the word on about the Chargers Cheerleader program!